We are moving along nicely! We might actually be on track for the spring market in Mid-March – yippie! Demo has kept us busy and thank god for extra crews of guys to help us knock it out. As soon as we have the framing and a few other inspections, sheetrock will be going up. That's when you will really see the transformations start to happen. This house has had many great surprises and only a few not so great surprises. All in all we picked a good solid one!
The kitchen will be one of the biggest transformations in this house. Even though this is a pretty good size kitchen for the era of the home, appliances have grown in size, and trying to find the right placement for the refrigerator was the biggest challenge. For the most part all the other appliances will stay in their current location, but we had to steal a little nook of the living room to bump a refrigerator into.
By bumping into the living room about 12″ we are now able to have the refrigerator come out to counter depth. It will feel so much more custom and not overwhelm the space.
Do you don't know how happy I was to find the matching wood floor in the entry way?! I had just order a whole bunch of floor tile samples and I got a call from my carpenter to let me know. They are going to be so beautiful. Especially, after we lay matching boards in the kitchen, then the whole 1st floor will match and flow beautifully!
We really wanted to keep the fireplace woodburning, but after an in depth fireplace investigation we found out it would be $8000 to reline it and bring back up to code. So, we opted for a very nice gas insert that will operate with a remote… I know, so fancy, right?! I've chosen a nice tile to update and compliment the surround.
When the carpet came up we discovered an original shuffleboard linoleum inlay in the basement! Oh that is a keeper… the original gameroom! Now I just need to find the shuffleboard pieces somewhere?!
I just love this pink bathroom and I hope the new owners do too! I guess I had never shut the door in there, because when I did the other day I noticed the inside was painted pink and I love it! I am going to find that pink again and give it a fresh coat of paint. We are not going to do a ton with this bathroom, just freshen it up with a new vanity, lighting, paint, and shelving. It's just too charming to do much else with!
The existing wallpaper wasn't actually that terrible, but it was peeling and had scuff marks from years of wear and tear. The main level bedroom wall paper came off so easily and we were hoping this would be the same scenario… unfortunately we were wrong! It had many layers of wall paper and started tearing the drywall. We did remove it all, but now it needs a layer of skim coating to get it smooth again.
We couldn't do much with the shape of this room due to the roof lines, but the paneling had to go! Once we got the paneling off we realized that there wasn't enough insulation under it to keep the heat and cold air out, so we installed a thicker insulation. We had to remove the flooring to get duct work up into the room and over to the new master bathroom. Plumbing as well had to go under part of it.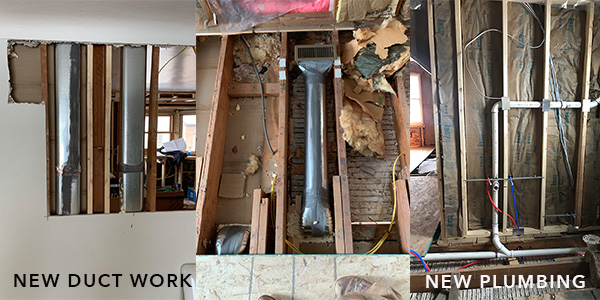 I know this probably isn't exciting to anyone but me, but the HVAC company finally fit us in to their schedule and the lines are installed! Plumbing is all ready to go for the master bathroom as well… So EXCITING!
Designing this project has been so much fun – we just finalized the cabinets and countertops, along with the tile selections. Black shaker cabinets and white quartz counters… it is going to be such a rich looking kitchen! The master bathroom I am going to keep very light and airy – I can't wait for you all to see all the amazing tiles I have chosen! Until the next post… keep warm on the -50 below day. Sunny warm days will be here again soon!